Many have come into our neighborhood looking for a place to call home. That is exactly what happened to Mitch and Mia when they found their house on Trade Street. Houses in Southeast Salem are often eighty to over a hundred years old, and come with tons of charm.
"Messed up, but love at first sight" is how they describe laying eyes on the house for the first time. At that time they were looking for a new home, craftsman style, with a comfortable yard for their dogs, downtown and affordable. And they found it in our neighborhood: a structurally sound century old house ready for some hands-on love.
The cleanup unearthed many treasures: old photo albums, toys, clothing shoved in the weirdest places, 70's soda cans buried in the yard. Inspired by these reminders of past lives the new owners decided to dig deeper and gain a better understanding of the ride they found themselves on.
The Willamette Heritage Center on Mill Street is home to the Marion County Historical Society. A donation and volunteer run organisation tasked with preserving the history of the Mid-Willamette Valley. Here Mitch found city directories going back to the 19th century, obituaries, marriage certificates and newspaper clippings revealing the history of their new old home.
The house was built in 1904 for the Stenstrom family. The Stenstroms raised their family there, with only the death of mother Anna Stenstrom marking the end of a chapter.
Anna was a member of the Knight Memorial Church's (today's Korean Church) Ladies Club. Her family's property was often the center of social life – a physically impressive property originally occupying half a block and with one of the largest houses in the neighborhood – hosting many a social club gathering in addition to housevesting the Church's pastors.
Since then the house has had several owners: An assistant principal, a pastor, an owner arrested with 11 other men in a raid on a poker game.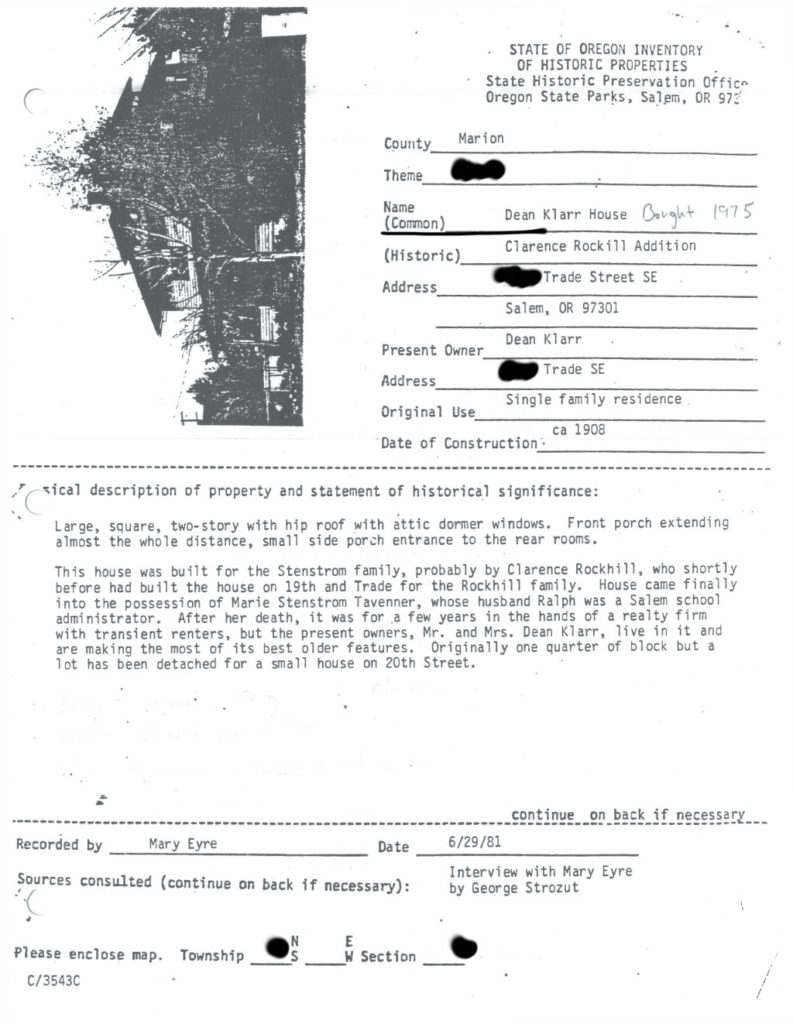 "A new house is a blank canvas, but for a house like ours you have to be willing to let go of the status that new brings to gain the rewarding sense of stewardship of a larger historic home." Mitch mentions. The couple has chosen to sacrifice some modern comfort in order to restore their home with respect for its past: original color pallet, vintage fixtures and doorknobs, refraining from installing modern siding. "Many cosmetic decisions are preordained due to choices by previous owners. Instead of forcing your will upon the house, it can be a fulfilling partnership."
The work necessary to make the house inhabitable is completed and Mitch and Mia are ready for the next step: landscaping and adding more personal touches …the fun projects.
Marion County Historical Society
In 2010, after years of close partnership and shared vision, Mission Mill Museum (established 1964) and the Marion County Historical Society (established 1950) merged to form the Willamette Heritage Center. Today the Center connects generations by preserving and interpreting the history of the Mid-Willamette Valley.